LEATHER SOUL:
Working for a Life in a Factory Town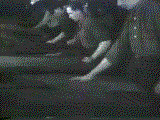 Narrated by Studs Terkel
PRODUCER: Bob Quinn DIRECTOR/EDITOR: Joe Cultrera
WRITER: John Stanton CAMERA: Henry Ferrini
The rhythmic grind of machinery, the breath of smokestacks, the cacophony of immigrant language all came to define a unique landscape that was the American factory town. Narrated by Studs Terkel, LEATHER SOUL brings viewers back to a time when America's work ethic was forged, and into the present where technological progress has torn apart the fabric of communities.

The story of the evolution of Peabody, Massachusetts' leather tanning industry - where a workforce of 20,000 has dwindled to less than 400 - becomes a specific focus that gives insight into a larger picture.

Through tightly woven montage and the pragmatic recollection of workers, LEATHER SOUL paints a vivid and poetic picture that plainly shows the undeniable and universal connection between work and quality of life.

46 minutes - Video. (27 minute version also available)



"A sterling example of rescuing working people's history"
Pat Aufderhide, IN THESE TIMES
"Lovingly produced...this quickly paced program vibrantly examines a bygone era."
Sue-Ellen Beaurgard, BOOKLIST
(4 Stars) "Would be a valuable addition to most libraries."
Mary Lou Gregory, VIDEO RATING GUIDE FOR LIBRARIES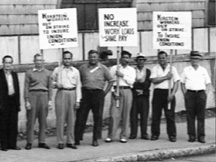 --------------------------------------------------------------------------------
Purchase/Rental
--------------------------------------------------------------------------------

ORDERING INFORMATION

Rental and purchase orders must be received at least one week in advance of date needed. First time customers must prepay or mail/fax/e-mail Purchase Order.

To order, send check made out to ZINGERPLATZ PICTURES to the following address:

Zingerplatz Pictures
57 Wharf Street #3F
Salem, MA 01970

Make sure you include a name, return address and phone number.


HOME VIDEO SALES
LEATHER SOUL is available for home video sales for $19, plus $4 shipping and handling ($23).
New York State residents add 8.375% sales tax ($24.59)


For overseas sales, please make money order payable to the above for $25,
plus $10.00 shipping and handling ($35)

INSTITUTIONAL SALES
The Institutional sales price (which includes unlimited public performance rights) is $99.






For further sales information:
e-mail us: info@zingerplatz.com
call us: 917-599-8843


ZINGERPLATZ PICTURES
57 Wharf Street #3F
Salem, MA 01970